Cockfield Herd
Joanne Bainbridge and fiance Robin (Cockfield Herd) from Bishop Aukland, Co. Durham, recently supplied the cattle for our stand at Borderway Agri Expo on 30th October 2015.
T
hey took a 6 year old pure Bazadaise cow and her 6 week old calf and a LimX with a Bazadaise sired calf. A photo of the Baz cow, Houselop Delightful is featured below.
Joanne has kindly sent us some more photos of their herd, including one of 13 year old senior stock bull, Houselop Tiger.

Click on the small images to get full size photos
Here's Salamanca Nelly, 15 years old here
but still in the herd. DoB 14/11/97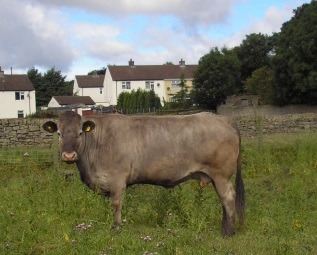 And senior stock bull, Houselop Tiger
at 13 years old. DoB 08/05/02