Annual Sale 18th April 2015
This sale of pedigree British Bazadaise cattle
was held at Newark Livestock Market.
---
Martin Faulconbridge's bull, Willidon Iver, which sold to G Chapman of Lincolnshire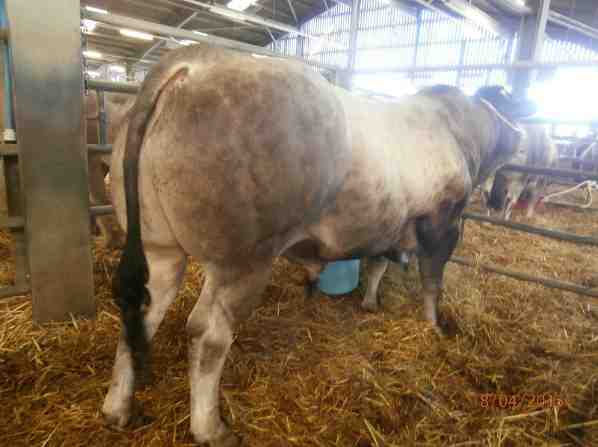 Unfortunately due to a management problem at Newark, the animal information regarding the animal entries for the sale was lost and no sale catalogue was produced despite regular attempted contact with Bazadaise Council Members in the weeks running up to the sale.

Newark Livestock Market have since been extremely apologetic.

Thank you members who entered cattle and to those who attended on the day, sorry to others who were left wondering whether or not the sale was going ahead.

Below are some of the prices which were realised on the day:

The top price bull Marsh Isaac sired by Yarlsber Frankie and bred by Sean Worrell. Isaac, a super well grown bull, not quite two years old, well handled and sold to Gary Dunmore for £2000.
Williston Ivor, sired by Ant Valley Billy from Martin Faulconbridge a two year old bull with good shape sold for £1900, an older stock bull from C B Parsons sold for £1450 and two slightly younger unregistered Bulls from Andrew Coombe sold for £1250 and £1000.

The top price female Macford Iris a two year old heifer sired by Macford Valtra , bred by and from the home of W & S Crawford, pd 8-10 weeks in calf and sold to Andrew Coombe for a price of £2000 with heifers from the same home at £1850 twice then £1800 and £1650. Two heifers which hadn't been pd realised £1450 and £1100.
Three older by cows by Polux and Edonil all 7 months incalf from C B Parsons sold to £1500 and then £1400 twice.

It is important to have quality cattle at our Society sale as this helps to promote the breed. Thanks to everyone and keep up the good breeding.
In the ring, Sean Worrell and his homebred bull, Marsh Issac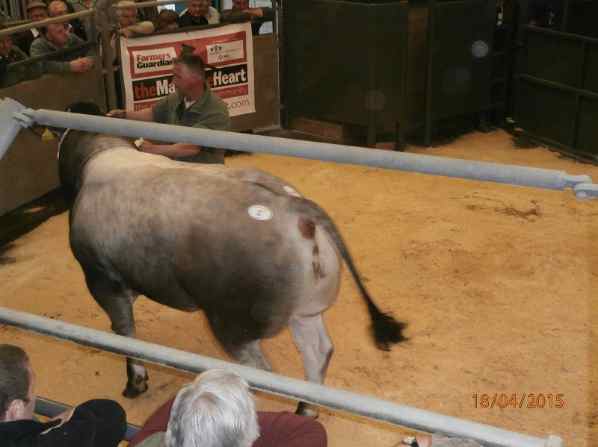 Under the hammer heifers from W & S Crawford, Kirknewton, West Lothian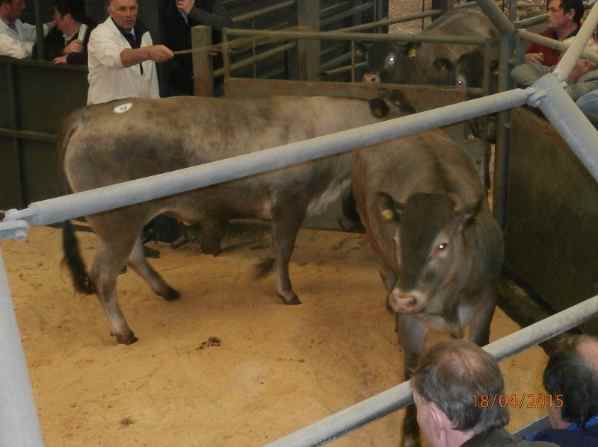 Settling down in their pen the night before before the sale...